Home Depot Walk-In Tubs Review
If you have mobility issues and find it difficult to get in and out of a normal bathtub without risking a fall, what are your bathing options? You shouldn't have to miss out on the rejuvenating and relaxing effects of a soak in the tub or a massage in the jacuzzi.
Walk-in tubs from Home Depot are the perfect solution for people who want to bathe in comfort and privacy without assistance. They have several safety features and hydrotherapy options that can be of real benefit if you have limited movement.
There are many specialized tubs on the market with different functionality, styling, and price. If you're looking at options for walk-in tubs, Home Depot offers several brands and models. We've picked three options that customers have rated most highly, and compared them by features, price, benefits, and disadvantages.
Walk-in Tubs at Home Depot - Products
The three walk-in tubs from Home Depot that we reviewed are rated at 4 stars and over. They are the Universal traditional-style tub, the Universal walk-in tub, and the American Standard walk-in tub.
Home Depot Walk-in Tub Styles
The following walk-in tubs should make the top of your list when shopping at Home Depot:
Universal - Standard Walk in Tub
Size: 30″ wide x 60″ long x 37.25″ tall
13 movable whirlpool jets
Adjustable jet water pressure
Manual jet controls
3 jet settings
Left-handed inward-swinging door
Built-in slip-resistant seat
10-year warranty
Universal - Traditional Style Tub
Size: 30″ wide x 59.6″ long x 22″ tall
Classic bathtub shape
Right-handed inward swinging door
Anti-slip floor
10-year warranty
American Standard Walk-in Tub
Size: 75″ wide x 52″ long x 33.5″ tall
13 movable massaging water and air jets
Adjustable jet pressure
One-touch jet controls
4 jet settings
Right-handed inward-swinging door
Built-in slip-resistant seat
5-year limited warranty
Walk-in Tubs Prices
As you saw from the list of features above, the three tub options vary in functionality. Here is an at-a-glance price comparison to help you decide.
| Walk-inTub | Home Depot Price |
| --- | --- |
| Universal Traditional-Style Tub | $2,028 |
| Universal Walk-in Tub | $4,196 |
| American Standard Walk-in Tub | $4,747 |
Pros and Cons of Home Depot Walk-in Tubs
These three top-rated tubs each have various features that recommend them to buyers.
1. Universal Traditional-Style Tub
Pros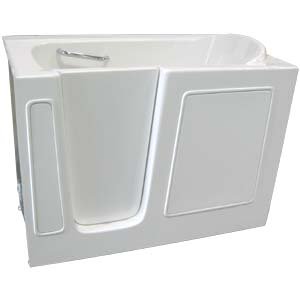 The Universal traditional-style tub has the lowest price tag. It has a standard bathtub shape that fits perfectly into the gap your old bathtub will leave. You won't need much (or any) remodeling in your bathroom (tiling, wall repair etc.)
You won't need to have a larger water heater installed, because of this tub's standard water capacity.  Another bonus of this basic walk-in tub model is its adaptability. You can place safety features like grab bars and slip-resistant shower seat in whatever positions suit you.
The traditional-style tub is the perfect option for families with seniors or disabled people in the home, as it can be used both as a normal step-in family tub and a walk-in tub. This dual functionality can also raise the resale value of your home should you want to relocate.
Cons
On the downside, this tub doesn't have any hydrotherapy features. It's a bathtub designed purely for better ease of private, unassisted bathing.
Home Depot Tub Information
The Universal walk-in tub at Home Depot is the most spacious tub of the three. It features adjustable jets that provide a whirlpool function for easing sore muscles and joints.
One of its top-selling points is the chromotherapy feature.  Chromotherapy is a tested form of therapy using LED lights that help with healing and mood enhancement. These colored LEDs are built right into the tub.
With both chromotherapy and hydrotherapy features with this tub, you can create a luxury spa experience right in your very own bathroom!
All three of these walk-in tubs at Home Depot have ADA compliant features. This Universal tub also has plumbing and electrical safety certifications, meaning buyers can rest assured that they're getting one of the safest bathtubs on the market.
This walk-in bathtub requires specialized installation, and you might need to upgrade your water heater to handle its capacity. The manual jet controls might be tricky to operate if you have pain or mobility issues in your hands.
The American Standard walk-in tub is a luxury tub with a total of thirteen jets that massage bathers with both air and water. Air bubbles cleanse and heal the skin, while the whirlpool action soothes sore muscles and joints.
It features high-pressure faucets for quick filling, and the Quick Drain® system allows the walk-in tub to drain completely in two minutes or less. This helps to prevent you from getting chilled while waiting to leave the tub.
The one-touch jet adjustment control is easy to use for bathers with arthritis or other conditions affecting hand mobility. The L-shaped door offers more legroom, so you won't have to squeeze your legs together when you exit the tub.
This tub is the priciest of our three top Home Depot options, but its dual air and water massage function is highly beneficial to bathers.
You'll need it installed by specialists, and you might need to upgrade your water heater to suit the tub's capacity. It also has a shorter and more limited warranty than the other tubs.
Conclusion
It's difficult to say which of these walk-in tubs at Home Depot is the best for you as they vary greatly in price and function. If you're looking for a lower-priced model that's convenient for families and easier to install, the traditional style is a great option.
The other models come with a heftier price tag, but also offer more luxurious hydrotherapy features. What suits you as a customer depends on your individual or family needs.
FREE Walk in Tub Price Query
Are you interested in the cost of replacing your bathtub for a walk-in tub? Comparing estimates from the top professionals in your area is the fastest way to figure out how much your installation is going to cost. Let us help you find the best prices on walk-in tubs today.
Save Big on Walk in Tubs Today !
Simply Calculate Walk In Tub Prices In Under 2 Minutes. This is a 100% Free No Obligation Service.