Best Walk-in Tub Reviews
One of the biggest dangers we face as we age is staying safe in the bathroom. The combination of water and slippery surfaces create an environment where you're at extra risk for falls and injuries every time. In fact, bathrooms are so dangerous that roughly 235,000 people go to the emergency room every year with bathroom-related injuries!
So when even people with normal balance and mobility have to be very careful in this part of the house, seniors have to be EXTRA careful.
And that's also why we are doing the best walk-in tub reviews – just to help you choose between the best there is to offer in today's walk-in tub market.
Walk-in bathtubs are one of the most innovative inventions for people who want to age comfortably at home. They help people to maintain their privacy and independence. They have a host of safety and comfort features that help you maneuver in and out of the tub without assistance and with way less risk of injury.
If you're shopping around online for the best safe bathing options, you'll be aware of how many walk-in tub options are out there. It can be pretty difficult trying to figure out which one will suit your needs the best.
We're going to look at a few of the factors that buyers look for when choosing a tub, and what you should expect to pay. We also investigated some of the top-rated tubs that have the most sought-after features in the marketplace.
What To Look For in a Walk-In Tub
Homes often need to be remodeled in various ways to accommodate the
physical needs of occupants of various mobility levels.
The importance of independent bathing for seniors is well-documented.
But what factors should you consider when you're looking for ways to make bathtime safer?
Safety is probably the #1 reason that you want a walk-in tub installed. The safest bathtubs for seniors have low step-in thresholds, are ADA compliant, and have slip-resistant floors and seats. They should have firm well-placed safety grab bars, and temperature control features to avoid burning or chilling.
Style and size of the bathtub are important concerns in shopping for a walk-in tub. If you need a specialized tub for bariatric or wheelchair-bound users, or your bathroom is small, or you want a convenient tub-shower combo model, make sure to pick a manufacturer with a wide range of style and size options.
Therapeutic features are sought-after by many buyers. Even if you're otherwise healthy, getting older means your joints and muscles can take a beating just from everyday activity. Hydrotherapy is proven to be very helpful in relieving stiffness, or chronic pain from inflammation. Features like aromatherapy and chromotherapy can help to promote relaxation and mental health. Walk-in tubs with these luxury spa features don't come at a budget price, but they're effective in treating a host of body and mind conditions.
Water heater capacity should be considered when you're thinking of installing a big new tub that uses lots of hot water. If you live in a family house with other members who bathe and shower, this is of extra importance.
What can you expect to pay?
Big-box retailers like Home Depot and Lowes will have a range of walk-in tubs with your exact specifications, at a lower price than you'll find with a specific manufacturer. However, bear in mind that big stores don't include installation in their pricing.
The cost of having a tub installed in your bathroom, depending on the scope of the job, can easily double the price tag.
The general price range of walk-in tubs is as follows:
| Tub Type | Price Range |
| --- | --- |
| Low-threshold showers and standard soakers | $1,200 - $2,500 |
| Air bath or whirlpool massage system | $2,100 - $3,500 |
| Dual-hydrotherapy massage | $3,000 - $5,000 |
| Wheelchair accessible and bariatric | $4,500 - $5,000 |
| Inclusive of all features plus luxury items | $5,000+ |
We Review The Top 6 Walk-in Tubs To Consider
We've put together six of the top brands and styles of walk-ins on the market in our list below.
American Standard Walk-in Tubs
American Standard is a well-known brand that has supplied kitchen and bathroom fixtures to the American public for over 140 years. Their walk-in tubs are some of the top sellers on the market. They have received lots of positive customer reviews, and very few complaints from the Better Business Bureau.
American Standard tub prices are around the middle to high range of the market. They range from $4,750 for a soaker to over $11,000 for a combo whirlpool tub with luxury features. While not one of the most expensive tub ranges, they can still be too pricey for many buyers.
Here are the pros and cons of one of American Standard's most popular tubs.
American Standard Gelcoat Premium Series 30×52
PROS
Outward opening door
Suitable for bariatric users
ADA-compliant grab bars
One-touch control system
Dual massage system
Chromotherapy
Aromatherapy
Quick draining
Self-cleaning system
A+ rating on the Better Business Bureau
CONS
Freight costs for the return shipment
Sewage system might need modifying for quick drain function
Boca Walk-in Tubs
Boca tubs have several great features that make them a top market seller. First off, they are built with an innovative frameless design that allows them to sit deeper in the bathroom floor. Because of this feature, they have a super-low step-in height of 3" – much lower than the industry standard of 6″- 9″.
The tub doors open inward but designed with a curve, so you can avoid having your legs squeezed when you get in and out of the bath. The tub drain system allows the tub to drain completely in under 3 minutes, and there's an automatic self-cleaning system installed that minimizes bacteria and mold growth.
We especially like Boca's two-seater tub. Who says you can't enjoy a soak or whirlpool with a companion, just because you're in a safety tub!
Diamond Elite Two-Seater Walk-in Tub
PROS
Extremely low threshold
Curved inward-opening door
32″ width
ADA-compliant grab bars
Bidet in seat
Dual air and water massage system
Aromatherapy
Quick draining
Self-cleaning system
Heated seat and backrest
Two seats for fun and water-saving!
CONS
No prices on the website
Extra plumbing required
Large water heater required
Large and bulky – needs manpower to install
Needs a strong floor for weight
Kohler
Kohler is a US manufacturing company renowned on 6 continents for its bathroom and kitchen products. Its premier tile ranges are particularly popular with discerning householders worldwide.
With the company's stellar global reputation, it stands to reason that their walk-in tubs are considered a luxury item. Of course, they have a luxury price-tag to match! At least you'll be able to arrange a beautiful bathroom remodel to match your brand-new tub…
Kohler offers a varied range of bathtubs, from simple tubs to luxury baths with whirlpool and hydrotherapy features. They customize their tubs, so you'll get exactly the size and style you want.
The Kohler Elevance walk-in tub has a unique rising sidewall that eliminates the need to open and close a door.
Kohler Elevance Walk-in Tub
PROS
Extremely low 3" threshold
Curved inward-opening door
Bariatric models available
ADA-compliant grab bars
Dual air and water massage system
Chromotherapy
Aromatherapy
Quick draining
Self-cleaning system
Heated seat and backrest
Wheelchair friendly rising sidewall design
Matching bathroom wall & tiling options
CONS
No prices on the website
The quoted price of over $9,000 excluding installation
Premier Care
Premier Care In Bathing is an industry leader in safety tubs and showers. Their range of products also has high sales and a great reputation in other countries, thanks to consistent quality and style.
Premier Care has an extensive range of tubs with innovative features and great versatility, which makes them one of the higher-rated and most popular brands.
Bathrooms in the UK and Europe are generally fairly small, as many houses were built before it was customary to have a bathroom indoors. In more modern times, bathrooms were added to the property, or built-in an existing subdivided space in the house.
Even extensive modernization and remodeling can't magically increase the size of the room, however. Bathroom appliances need to be scaled down to fit, and Premier Care has managed to create tubs that fit neatly into a smaller space, without skimping on comfort and luxury.
The Oasis walk-in tub is a perfect example of this innovative design. It's one of the most compact tubs available, while also having a great deal of depth. It also has an optional shower canopy, so you can choose between bathing or showering in safety and comfort.
Premier Care Oasis Compact Walk-in Tub
PROS
Compact size
Outward-opening door
5″ depth
Optional shower canopy
Dual air and water massage system
Chromotherapy
Heated seat and backrest
CONS
Safe Step
Safe Step is a Tennessee-based manufacturer that has become a leader in the safety tub and shower industry. They have a reputation for good customer service. They offer lots of rebates, discounts, and tailored financing options. On top of all this, they also have a program that donates tubs to people in need.
Safe Step doesn't have prices on their site, like most walk-in tub manufacturers. However, they include professional installation in their quotes, which makes it easier for you to budget for your new tub.
As many seniors are happy to age at home with other family members, combination shower-tub baths are becoming more popular. A combo shower-tub gives you and other householders a choice between having a shower or a bath. It saves space in the bathroom and provides a safe and convenient bathroom experience.
Safe Step's Hybrid tub is a perfect example of this combo-style walk-in tub.
PROS
Overhanging shower head
Foot massage jets
Extra-wide door
Bidet in seat
Dual air and water massage system
Chromotherapy
Aromatherapy
Quick draining
Self-cleaning system
Adjustable headrest
CONS
Universal
Universal Tubs have a range of luxurious and therapeutic features like whirlpool jets and chromotherapy. They are also right in the middle-of-the-pack when it comes to price, so you'll be able to get that luxury spa experience for less.
Universal makes a highly-rated tub for people who have very limited mobility. It's a slide-in tub that allows a wheelchair-bound person to move easily from a chair to a built-in seat.
The seat is the same height as a standard wheelchair, and the door opens outwards completely away from the seat. This tub has a higher than standard step-in threshold, so it's not designed to be a safe walk-in tub. It's used specifically for wheelchair access.
Universal Wheelchair Access Tub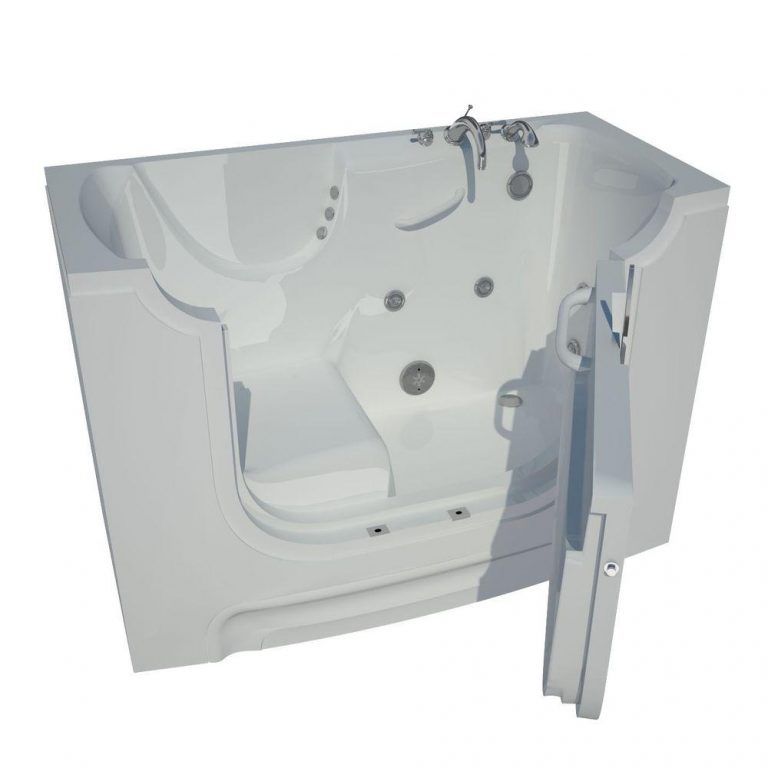 PROS
Affordable price – starts under $4,000
42″ tall
Extra-wide door
Air massage system
Chromotherapy
Aromatherapy
CONS
High step-in threshold
One-year warranty on parts
The Most Common Question About Walk-in Tubs
Some of the most frequently asked questions about walk-in bathtubs include:
Are walk-in tubs expensive? This is a difficult question to answer, as there are many styles and brands on the market. You can expect to pay anything between approximately $2,000 and $8,000 just for a basic tub, without installation. The installation costs, including electrical and plumbing connections, are often around $2,000. If you're planning on an entire remodel of your bathroom, expect your costs to increase even more. See a our detailed walk in tub cost breakdown.
Do you need a walk-in tub? If you have any kind of mobility issues, related to age, disability, or injury, you can benefit from a walk-in tub.
Is a walk-in tub better than a walk-in shower? A walk-in shower is very convenient, especially in a family home. However, a tub with a safety seat and grab rails is safer.
What are the health benefits of walk-in tubs? Deep soaking can relax the body and mind, while whirlpool jets help to massage away aches and pains.
What are the safety benefits of walk-in bathtubs? These tubs have anti-slip floors and seats. The seat offers support so you don't have to lie or stand in an awkward position. Safety handles help you to balance when either entering or exiting the tub.
FREE Walk-in Tub Price Query
Are you interested in the cost of replacing your bathtub for a walk-in tub? Comparing estimates from the top professionals in your area is the fastest way to figure out how much your installation is going to cost. Let us help you find the best prices on walk-in tubs today.
Save Big on Walk in Tubs Today !
Simply Calculate Walk In Tub Prices In Under 2 Minutes. This is a 100% Free No Obligation Service.