Boca Walk-in Tubs Prices Review
People with limited mobility deserve to live in the comfort of their own homes as much as possible.
Part of this experience is to be able to enjoy the dignity of private unassisted bathing.
Boca walk-in tubs give seniors and the disabled the ability to enjoy the relaxation and rejuvenation of a good long soak in the tub.
They gain all the therapeutic benefits of a spa-like experience, without compromising on safety.
Boca walk-in tubs all have standard safety features. These include slip-resistant floor and seat, leak-proof door-locking technology, and ADA-compliant handrails.
Their design also boasts the lowest step-in threshold in the industry. Seniors can maneuver in and out of the bathtub with greater ease than ever before.
Boca tubs are customized to the buyers' personal, individual requirements.
Boca Walk-in Tub Products
Boca offers walk-in tub solutions featuring dual hydrotherapy, chromotherapy, and aromatherapy features. Bathers can choose the functionality of their bathtub to suit their personal preferences and the dimensions of their bathroom.
The Boca walk-in tubs have a frameless design that allows them to sit deeper in the bathroom floor. The step-in height is much lower than the industry standard of 6″- 9″, which allows for greater ease and independence of use.
Doors open inwardly and are designed for both left-handed and right-handed bathers. They are designed with a curve to avoid the inconvenience of squeezing the bather's legs when getting in and out. The speed drain system allows the tub to drain completely in under 3 minutes. This avoids unnecessary waiting time while the bathtub empties.
The Boca walk-in tub is constructed with yacht-quality fiberglass. It has a glossy gel coat for ease of cleaning. The auto-purge self-cleaning system ensures complete flushing of water inlets, to minimize bacteria and mold growth.
The placement of the jets is customizable, allowing a bather to target specific muscle groups. All models of the Boca Diamond Elite walk-in tub come in standard colors of white and cream. Buyers can request other colors to suit their home décor if desired.
There are 7 varieties of Boca walk-in tubs, ranging from deep soakers to dual seats (2-person tub) to the Petite space saver options for smaller bathrooms:
Diamond Elite – Standard Dimensions Walk-In Tub
Dimensions: 30" wide x 51" long x 36" tall
2. Diamond Elite – Wide Walk-in Tub
Dimensions: 32″ wide x 56″ long x 36″ tall
3. Diamond Elite – Wide/Deep Walk-in Tub
Dimensions: 32″ wide x 56″ long x 40″ tall
4. Diamond Elite Two-Seater Walk-in Tub
Dimensions: 32″ wide x 62″ long x 36″ tall
5. Diamond Elite – 26″ Petite Walk-in Tub
Dimensions: 26″ wide x 51″ long x 36″ tall
6. Diamond Elite – 47″ Petite Walk-in Tub
Dimensions: 30″ wide x 47″ long x 36″ tall
7. Diamond Elite – Deepsoaker Walk-in Tub
Dimensions: 30″ wide x 51″ long x 40″ tall
Boca Walk-in Tub Standard Features
Low step-in threshold
Customizable safety grab bars
17″ high ADA compliant anti-slip seat and floor
Easy locking handle
Leak-proof bathtub door
Speed drain system
Bathtub shell 3 times thicker than normal to prevent cracking
No steel-frame – eliminating the necessity to uninstall the tub for repairs
Marine-grade gel coat/fiberglass material
Mold, bacteria, and mildew-resistant finish
Fast fill time – solid brass faucet with ¾" fill lines
Gravity-fed quick drain
Automatic drying purge system
Curved door design for easy entry and exit
Front access panel for ease of tub maintenance
Boca Additional Features
These features can be included in the tub design according to buyers' choice
18 Air Jets
10 Water Jets
Bidet – personal hygiene jet right in the tub seat
Select-A-Flow diverter for water jets (can direct water jets to the footwell)
Chromotherapy (light therapy)
Aromatherapy (scented beads in air system when activated)
Pure bubbles/microbubbles
Heated seat
Syllent motor (extremely quiet water pump/motor)
Heated back
Wall surround system (fiberglass panels with bullnose)
Ozonator (optional cleaning system for jetting system)
Wall-mounted grab bar
Tub-mounted grab bar inside the tub
Adjustable shower riser for handheld system
Additional fill panels (shelving for additional widths or lengths around the tub)
Premium fixture colors: chrome/brushed nickel/bronze
Boca Walk-in Tub Warranty
The tub, door seal, door components, and both massage systems are covered by a lifetime warranty.
Pros and Cons of the Boca Walk-in Tubs
Here are some of the reported pros and cons from users of this brand of bathtubs.
Pros
Lowest threshold height on the market, for ease of entering and exiting the walk-in bathtub
Boca bathtubs are customizable, so buyers can decide on dimensions, appearance, and functionality
Air and water jet combinations maximize hydro-massage functions to help to ease muscle and joint pain
Steam generated by the hot whirlpool effect can alleviate sinus and bronchial symptoms
People with mobility issues can bathe with dignity and superlative safety
The wider models can be used by bariatric patients
The two-seater model allows communal bathing for fun and water-saving
Chromatherapy and aromatherapy features can turn bath time into a luxurious spa experience at home
The quick-draining system drains the water in under three minutes, so there is less risk of chill
The heated seat also helps prevent chilling while draining or waiting for the tub to fill
The bidet function helps with ease of personal hygiene for bathers with limited mobility
Cons
Installation costs can be high, depending on the layout of the bathroom
A large water heater is required for a walk-in tub installation
Quick fill and drain features might require additional plumbing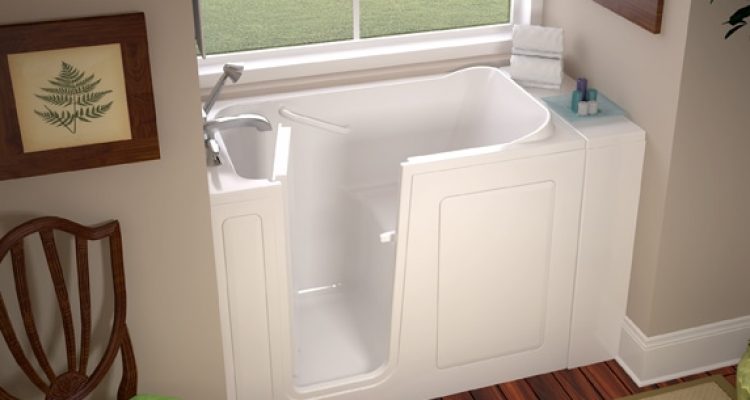 Conclusion
Boca offers customized walk-in tub solutions. The Boca walk-in tub features specialty combinations that are not available from other suppliers. The low-threshold, frameless design and a full range of functionality make this tub one of the better products on the market. The Boca walk-in tubs are 100% U.S.-made, and they are available nationwide.
FREE Walk-in Tub Price Query
Are you interested in the cost of replacing your bathtub for a walk-in tub? Comparing estimates from the top professionals in your area is the fastest way to figure out how much your installation is going to cost. Let us help you find the best prices on walk-in tubs today.
Save Big on Walk in Tubs Today !
Simply Calculate Walk In Tub Prices In Under 2 Minutes. This is a 100% Free No Obligation Service.