What are the Pros and Cons of a Walk-In Tub?
When you think of a walk-in tub, images of a relaxing soak in a spa-like environment with steamy hot water and a soft bubbly jet massage come to mind. And you're 100% correct.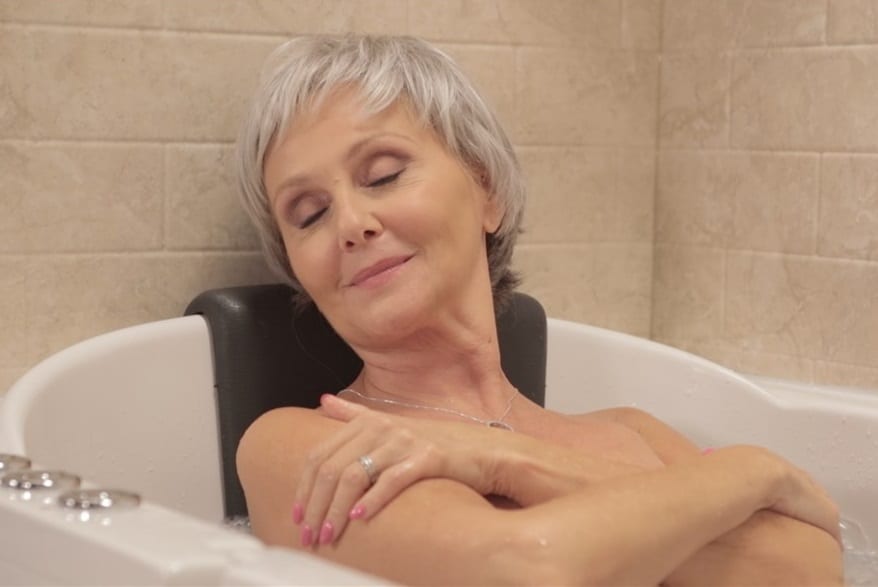 Few of us can deny the therapeutic effects a relaxing bath can hold after a long day at the office. Walk-in tubs elevate the bathing experience to where conventional bathtubs can't. Regular bathtubs simply haven't been designed this way.
For the average person, a walk-in tub makes for an exciting addition to the home. Moreover, it's a solid investment for any home.
However, the average person often overlooks the obvious value a walk-in tub offers anyone suffering from mobility restrictions. Seniors and anyone with a disability can gain back some much-needed independence with the addition of a walk-in tub.
Now that we've covered the obvious, let's take a closer look at the pros and cons of a walk-in tub:
The Pros of a Walk-in Tub
Let's consider the top reasons why people buy a walk-in tub and what pros and cons they have.
Luxurious Comfort
At the top of the list for most people, let's get into the comfort zone.
There's simply no comparison. The comfort offered by a modern walk-in tub is unparalleled. Some of the most sought after features include:
whirlpool jets
low threshold step-in
hand-held shower spray
fast-draining technology
chromotherapy capabilities
extra wide seat with heated backrest
Safety & Independence
Did you know that the inability to bathe oneself is the biggest determining factor in institutionalization?
For many seniors and others suffering from limited mobility, the threat of having to leave their beloved home and move into a care facility is very real.
However, for some, installing an easy-access walk-in tub is the only option.
With easy access, a walk-in tub comes with many safety features specifically designed to give you back your independence.
If your main focus is safety and independence, here are some of the features you can look forward to:
safety grab bars
low step-in threshold
ADA compliant slip-resistant floor & seat
temperature control features
fast filling and draining technology
elbow activated levers for ease-of-use
The Cons of a Walk-in Tub
Before you go ahead and make that all-important decision, you absolutely have to consider the following important factors:
Modern Walk-in Tubs are Not Cheap
Walk-in tubs offer a real solution to seniors and the disabled, but they are not cheap. However, settling for a cheap model is just not worth the gamble and chances are that it's not American-made. Here are some of the trusted brands that should be on your list of possible walk-in tub suppliers:
American Standard
Boca
Premier Care
Kohler
Rain
Universal Walk-in Tubs
Tub King
Clarke
Hydro Dimensions
Safe Step
Professional Installations & Size
There's no getting around it – modern walk-in tubs are big and require professional installation.
If you thought that you could save a few dollars by installing this one yourself, it's time to reconsider. Due to the size of the tub, some modifications may have to be made to your bathroom entrance in order to get the tub inside. Also, consider size in terms of a normal tub, which takes an average of 25-45 gallons. Walk-in tubs can take as much as 80 gallons, so they are a bit heavy on water.
On the upside though, professional installations come with a guarantee that ensures your tub is correctly installed and functioning as it should. Moreover, professional installations ensure that you comply with all regulations and building codes.
The Benefit of Walk-in Tubs for Seniors & Those With Mobility Issues
For anyone struggling with mobility, the threat of falling and the inaccessibility of a conventional bathtub can be debilitating. Some may even try to avoid the bathroom out of fear. However, with so many customizable options and features on offer, modern walk-in tubs are a real solution like no other tub can. Anyone can now have the confidence to enjoy an independent, unassisted bathing experience.
If you are unable to bath on your own, afraid of the bathroom, or even facing the threat of having to move due to your bathroom restrictions, a handicapped, easy-access walk-in tub is the solution.
Are You Ready To Install a New Walk-in Tub?
Are you interested in the cost of replacing your bathtub for a walk-in tub? Comparing estimates from the top professionals in your area is the fastest way to figure out how much your installation is going to cost. Let us help you find the best prices on walk-in tubs today.
Save Big on Walk in Tubs Today !
Simply Calculate Walk In Tub Prices In Under 2 Minutes. This is a 100% Free No Obligation Service.