Walk-In Tub & Shower Combo
"Aging-in-place" often means designing your home to suit your needs as you age.
This includes features to assist your mobility in everyday life, like an access ramp for the front door, large-button phones, a walk-in tub and shower combo, and many other features specifically designed to assist seniors and people facing mobility issues.
Bathrooms can be particularly dangerous for older folks. Confined spaces and slippery surfaces pose risks for people with mobility, balance, and health issues. And stepping into a standard bathtub or shower requires stable balance and high leg lifts, often on damp bathroom tiles.
For these reasons, walk-in tubs have become the go-to option for people wanting to make their bathrooms safer. However, don't mistake the shower combo with handicap bathtubs, which are specifically designed for mobility restrictions. Walk-in tub and shower combo systems are a popular option for a number of reasons.
Walk-in Tub and Shower Combos
Most walk-in bathtubs feature a handheld showerhead that you can attach to a wall fixture if you want to use your tub as a stand-up shower. In this case, you would also need to install a shower curtain or full shower enclosure around your tub – unless you're OK with your bathroom constantly swamped in shower water!
A more convenient option for people wanting the dual tub and shower functionality is to buy a walk-in tub that's already fitted with a shower surround and/or curtain. This type of walk-in tub and shower combo can be installed in one session, without any fiddly or messy extra details to worry about.
Depending on what type of walk-in tub you buy, you'll have all the luxury spa functions of the tub (hydrotherapy, deep-soaking, chromotherapy, etc.), plus the added benefit of a quick refreshing stand-up shower.
Who Should Buy This Combo?
If you live at home together with family members of various mobility levels, the combo option can be a great space-saver. It's suitable for seniors and the disabled, AND normally-abled people.
If you're a senior with fairly good balance and mobility, the stand-up shower gives you the option of a water-saving shower, together with the benefits of low step-in threshold and safety grab bars.
You'll be able to sit down during your shower, any time you feel the need. And of course, you'll be able to have a long, luxurious sit-down soak or whirlpool bath whenever you want the therapeutic benefits.
Tub-Shower Combo Features
Most walk-in tub and shower combination models feature shower heads that you can hold by hand while sitting – or that you can fix to a wall-mounted stand. Walk-in tubs with shower options are available from all major brands.
The tubs have a wealth of safety and convenience options that you should expect from any quality specialized safety bath system. Most walk-in tubs already come with a showerhead. This option also allows you to stand up. It adds versatility to your bathing experience but might be difficult to navigate with limited mobility.
Combo tub therapy features (depending on the tub brand and model you select):
Air massage therapy stimulates and nourishes your skin, leaving you feeling ultra-refreshed and clean.
Water jets give you a deep tissue massage, ideal for aching muscles and joints.
A showerhead allows you to relax under a luxurious fall of water.
A handheld shower want enables you to cleanse yourself in specific body areas, or rinse out your bath after use.
Right- or left-hand door opening allows you entry in the most convenient direction for the space you're in.
Inward-swinging doors save on space and won't bump inconveniently into other appliances in your bathroom.
The ADA compliant 17″ slip-resistant seat lets you relax in your bath, or sit down in the shower – whichever you choose.
Tub-Shower Combo Prices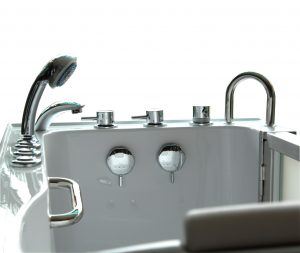 Depending on the brand, you can expect to pay between $2,500 and $6,000 for a walk-in tub with a shower enclosure and showerhead.
If your chosen tub has luxury whirlpool features installed as well, you can expect to pay upwards of $8,000. For a budget option, there are combo tubs available online for as little as $800.
These are generally available from overseas e-commerce retailers and come with the usual issues attached to imported purchases.
Don't expect any service or component issues to be resolved quickly – you'll probably have to wait weeks for your problems to be addressed!
Conclusion
A walk-in tub and shower combo is a great option for buyers with various family members living at home, as they save on space. Bathers also get the option of a full luxurious bath or a quick shower, depending on requirements.
These combos come in a number of models and prices from various major retail brands. The downside? You can expect a fairly extensive remodel of your bathroom, compared to a normal walk-in tub installation.
FREE Walk-in Tub Price Query
Are you interested in the cost of replacing your bathtub for a walk-in tub? Comparing estimates from the top professionals in your area is the fastest way to figure out how much your installation is going to cost. Let us help you find the best prices on walk-in tubs today.
Save Big on Walk in Tubs Today !
Simply Calculate Walk In Tub Prices In Under 2 Minutes. This is a 100% Free No Obligation Service.